CH Pagatos Hope of Oakside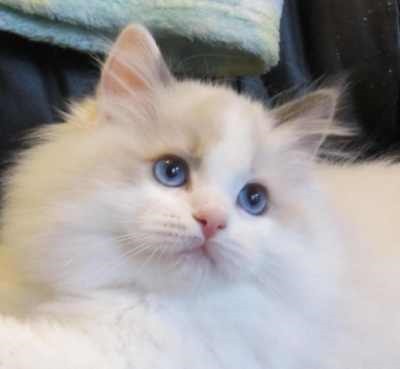 CFA 2013-14 Best Ragdoll Kitten, Region 7
This little girl spoke to my heart from the very first.  Those beautiful blue eyes, cotton ball cheeks, and great scoop made for an irresistably sweet look.  What a pleasure she was to start my kitten showing experience, though she set the bar high!  Our precious Hope is now the reigning matriarch of the house.  Her sweet expression is matched with a quiet manner (until the chicken treats come out!) with just a touch of well deserved diva-ness.  A wonderful mother, Hope has given us our Cody, TICA Supreme Grand Champion!

CH Pagatos Mikayla of Oakside
Seal Point and White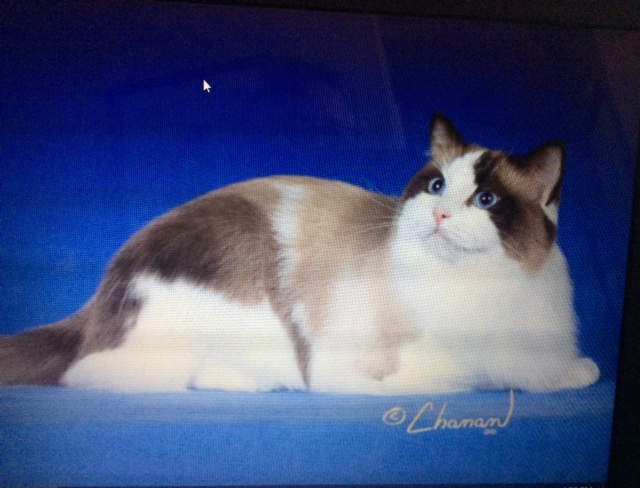 Affectionately known as Chaos, she is the resident clown.  A 'talker', you can have entire conversations with her, though she says now! now! instead of meow.  On top of entertaining,  Chaos has great size and a wonderful solid body…a 14 lb girl!  Added to that are deep blue eyes, great ear set and bunny-like coat.

CH Oakside's First Edition
  Blue Point and White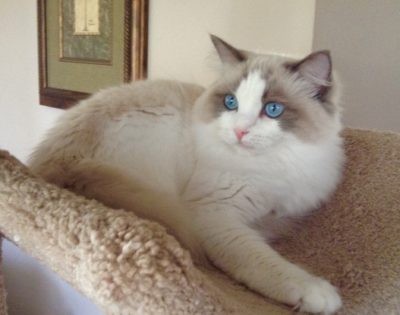 "Tio" is her mother's daughter.  Like Hope, she has that soft, sweet expression with beautiful eyes and a great profile.  A quiet girl, her favorite spot is sleeping at the foot of our bed.

QGC Pagatos Pied Piper of Oakside  
Seal Point and White Tortie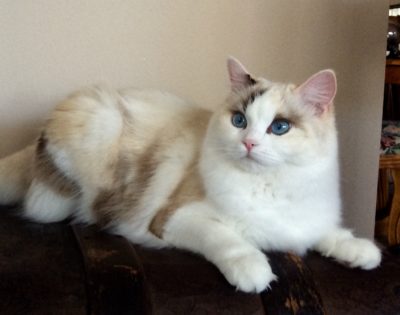 A Seal Tortie, Piper has absolutely beautiful color that just continues to get more vibrant.  Her coat has an amazingly plush feel and her eyes are just arresting.  Add a super friendly, loving nature and what a treasure!  I still can't believe Maggie let me bring this wonderful girl home.  Thank you, Maggie!

QGC Lottarags Camille of Oakside
    Seal Point and White Lynx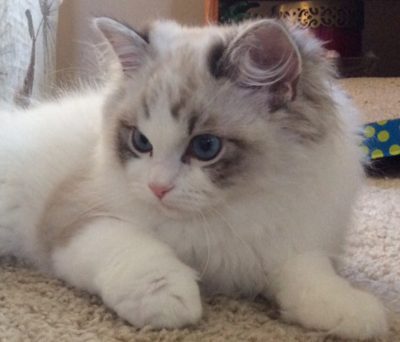 Oh, my goodness!  Just look at this face.  Captivating deep blue eyes, beautiful profile, wide muzzle, and great ear set add up to heart melting cuteness.  And with her outgoing, loving personality, she is an absolute joy.  Denise, thank you so much for allowing this girl to join our family!

GC Pagatos Faith of Oakside 
…now Retired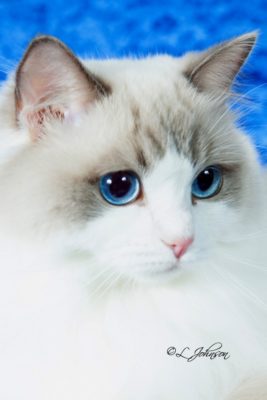 CFA Best Blue Point & White, Region 7
Another Walker baby, Faith wowed us from the start with her intensely vivid blue eyes, silky coat, and soft nature.
It was a tough choice deciding to spay her, but bred to Brigitte's handsome Magic, she gifted us with two beautiful daughters, including Chaos (Mikayla) above.